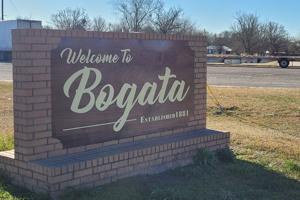 BOGATA — With the appointment of Brad Allison to the City Council, after a series of resignations and the removal of a member due to a legal technicality, the group is now back to full strength and ready to move forward with the business of running the city, members said at the Monday meeting in City Hall.
Allison was selected from a field of four men to fill the seat Jake Stinson gave up Monday morning. Stinson had to resign since he no longer lives in the city limits.
Before the council selected Allison, each man spoke of his hopes for the city and what he would do in office.
Bill Mellon held the seat but was defeated in May by Stinson.
Mellon said he was seeking the seat to finish the work he had started during the year and a half he was on the council.
Bret Jones, who was on the police force for seven years, said he wanted to see the city grow, but noted there was a lot of work to be done before growth would come.
Wade Allen agreed on the need to draw businesses to town and said he would serve the city with integrity.
Allison, who has lived in Bogata since 1991, said he would help the city by making it easier for businesses to start up. While agreeing that the city needs to look better, Allison also said residents should not feel pressured to meet a standard they might not be able to afford on their property.
"I don't want to see my town become an HOA," he said.
Before the vote Councilwoman Christy Rolf thanked the four men for offering their time to serve the city.
"We have one seat up, and it is great to have four that have stepped up," said Rolf, who had submitted her resignation last week, but rescinded it before the Monday meeting.
Councilman Cecil Loftin then reminded everyone that there will be an election next May and invited all to consider running at that time.
The mayor's chair and four seats on the council will be up for election at that time.
Jones said he would likely be a candidate in that election.
Allison said he saw the opening as an opportunity to have a direct voice the direction of the city,
"I saw a chance to help my community," he said. "I had some friends ask me to run."
The council also held a workshop that was led, in part, by Councilwoman Miranda Mathews, who spent the past few days in City Hall going over the old budget and reorganizing it to present a more concise form to the council.
"It was just a jumble of numbers," Mathews said. "We need to make the budget easier to understand. I am striving for transparency, breaking it down to see where the money is going,"
The council will hold its next budget workshop Aug. 1.


#Bogata #fills #council #vacancy #due #resignation #News